Training programs are intended to build individual and workforce capacity for community members who strive for community growth and empowerment.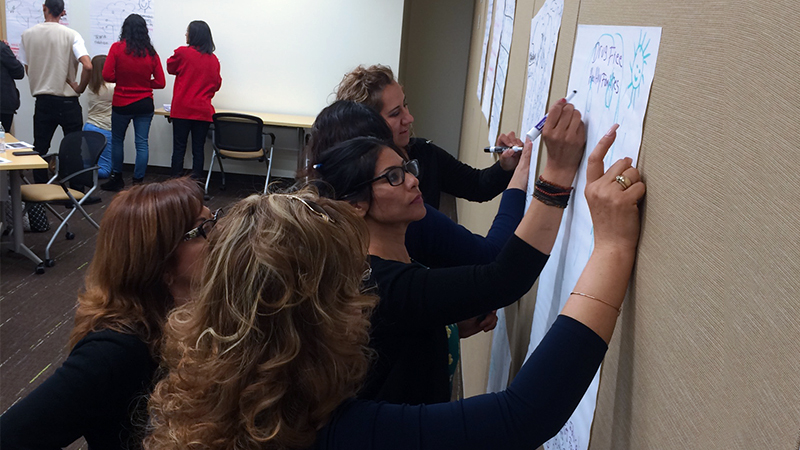 GCHW 010: Community Health Worker (CHW) Foundations Training
The GCHW 010 training program introduces students to the philosophy and practice of community health promotion. Students are immersed in a participatory experience whereby they collaborate on topical themes that strengthen participants' leadership for facilitating critical dialogue, as well as to actively involve individuals, employees, families, and agencies in building healthy communities. Topics include: public health fundamentals, popular education, cultural humility, emotional intelligence, leadership, health education & promotion, and home visitation. Students also receive comprehensive Behavioral Health training that will prepare them to provide harm-reduction mental health aid, understand and apply the foundations of behavior change, work in an inter-disciplinary team approach, and assist communities in using resources in physical and behavioral health services.  Length of Program: 100 hours of didactic training and 100 hours practical experience.
GCHW 020: Clinic-based Community Health Worker (CCHW)
The GCHW 020 specialty training program prepares CHWs to function as members of a clinical care team, in both inpatient and outpatient settings, with a case management approach to patient care. Topics include: organizational culture, HIPPA, basic medical terminology, home visitation, patient navigation, service/care coordination, motivational interviewing and goal setting.  Length of Program: 80 hours of didactic training and 200 hours practical experience. Pre-requisites: Successful completion of GCHW 010.
GCHW 011: School-based Community Health and Education Worker (CHEW)
The GCHW 011 specialty training program addresses the social determinants that drive health and education. As part of school-based teams, trained CHEWs will provide health and educational outreach and advocacy for the Whole Family (students and parents), and serve as liaisons between the community, resources, and the schools. Topics include: family engagement, navigating educational resources, home visitation, confidentiality and safety issues.  Admission into this program is contract based.  Pre-requisites: Successful completion of GCHW 010. 
Core Competencies
Communications skills
Interpersonal skills
Knowledge: Community, health and services
Service coordination
Capacity building
Community advocacy and outreach skills
Adult teaching
Organizational skills
Cultural competency